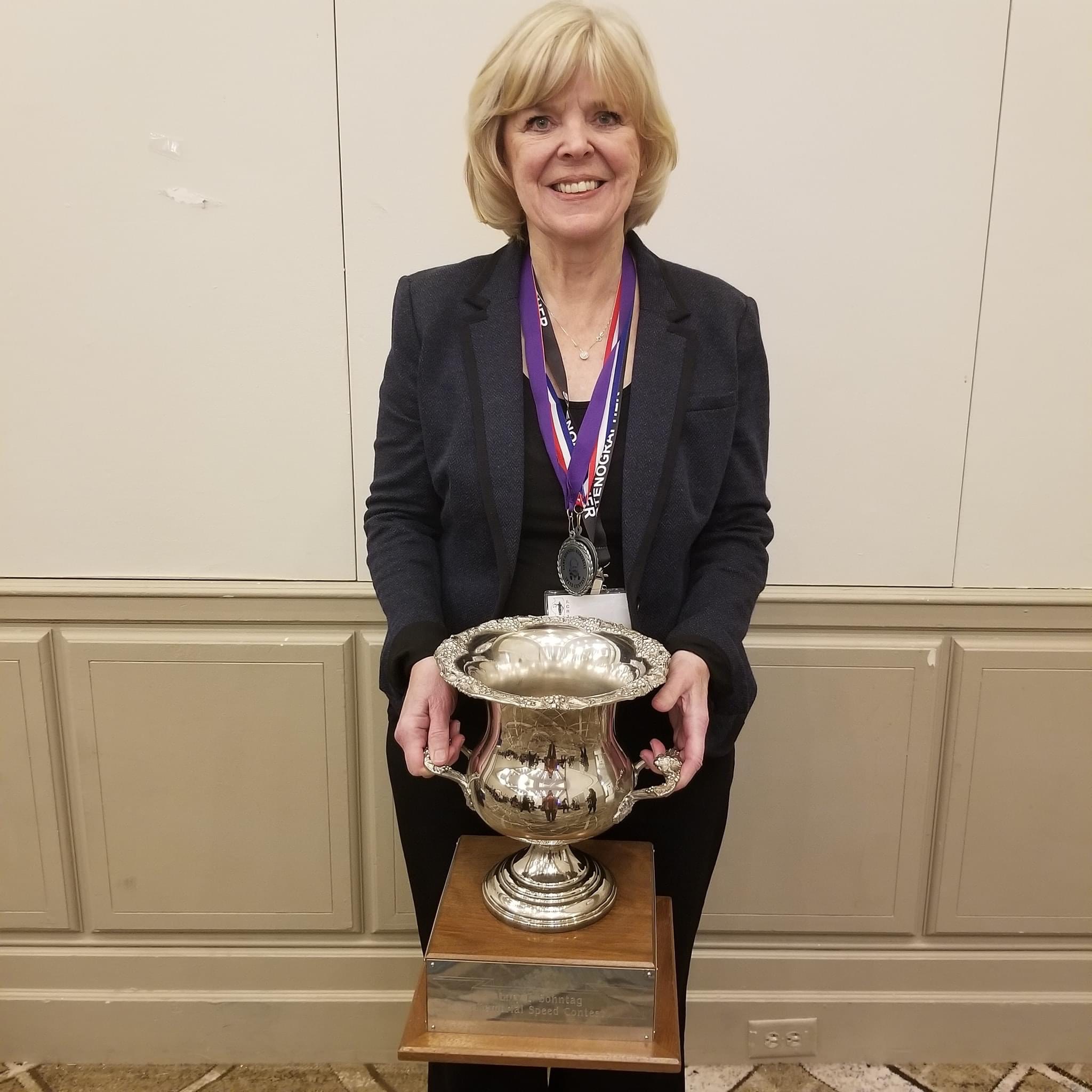 Donna Urlaub has had quite a remarkable track record when it comes to competing in national and state speed and realtime contests.  Not only is she the 2021 National Speed Contest Champion, but she also brought home the gold in 2022 as the Illinois Speed and Realtime Champion, topping both national and state wins with perfect papers!
Her practice is the key, and she's constantly working on her skill.
Below is an excerpt from a recent interview Donna gave for the Illinois Court Reporters Association (ILCRA) newsletter, sharing her advice and insight for, well, just about anyone in this industry.  Feel free to scroll through and check out what she has to say!
GN: Do you have any advice:  
a. for students?  
DU: Join your state and national associations. It's crazy cheap for students, and you will learn so much/make great connections/maybe even win stuff, get money! Make it easy to practice. Have your machine set up at all times so there's no obstacle to practice. You're watching TV, have your machine at the ready. Just write. Don't waste your practice. Write realtime for yourself, then go through it and define everything. If you didn't write to a file (your laptop), scroll through your notes, open your dictionary, and add the entries. If you write a poor outline, and it can't be something else, define it. There's no harm at all in defining less-than-perfect outlines. Make practice a priority, make practice mindful. Don't fall prey to the misguided advice of just write something no matter how ugly, and your notes will clear up later.   Strive to write clean and short, and to keep up as long as you can.   Try low, tilted-machine writing for better ergonomics. I can write all day without stress on my arms/wrists.   What I learned from Ed Varallo: practice for the test, meaning no more than 10 wpm over. Another test tip from Ed: strategically drop, meaning better to drop one word and get back on that speeding train, than fall apart and drop 8 to 10, and not be able to read what's before and after.   My tip for test takers: it counts as one error whether a three-syllable word or one, whether plural and should have been singular or vice versa. That word that you wrote with a shadowy "s" on the end is still an error even though you wrote the root word correctly. That four-syllable word that you got a piece of counts as one error, just as the four one-syllable words that you dropped after that. And proofread your test paper against your notes. This can — and will — be the difference between pass and fail. I've seen that many times in students who kept failing and didn't know why. It's a heartbreak to fail simply because you didn't proofread.   The more you read, the more words you've encountered and know, which means fewer words to get stopped in puzzlement in your brain, and not come out your fingers. The same with writing steno: the more and varied words you write, the less chance of that pause/ stop when it hits that amazing computer called your brain.
b. for new reporters? 
DU: See above. And seek out a mentor. There are lots of us out there who would be happy to fill this role. Also, wherever you choose to work should have a training program. Realtime to yourself every single job. The time saving is invaluable. Get there early and create the title page, make job defines (or you've hopefully done it already), use the recesses or pauses in proceedings to clean up/job define/get clarification on something you flagged as you were writing. Question/check and double check everything. No matter how confident you are, Google it. Put the whole sentence in and see what you get. You don't know what you don't know, and you'll often be surprised when you find out.  Strive for higher certification. Nothing boosts your confidence like knowing that you've passed (fill in the blank). Many a time I have consoled myself, after a fasttalking expert witness, with the knowledge that I have proven myself to be a fast writer; in other words, it's not me, it's you! And, whether you believe it or not, you are writing faster — even though you feel like you're getting killed — because you've put in the work to earn the certs. Learn your software early and well. Invest in yourself; schedule time with a trainer (Pam Szczecinski for CaseCATalyst). There's so much she can help you with that will save you editing time which = money, and will help you to not develop bad habits which also cost time which = money. All of this circles back to the value of mindful writing, clean writing, tweaking your dictionary, more job enjoyment.
 c. for people thinking about entering a speed and/or realtime contest? 
DU: Just do it! You have nothing to lose, and everything to gain. You'd be amazed at how fun it is, the reporters you'll meet and get to know, the sense of camaraderie, and the surprise and excitement when you turn in that paper and eureka! you qualified! Then you're hooked. Everything you do to prepare for the contests boosts your confidence, ability to achieve higher certifications, and performance on the job.
d. for seasoned reporters?
DU: Don't let age/time you've been reporting be an excuse for: fill in the blank. "I've always written everything out; I'm not going to change now." "I can't shorten my writing; I'm too old." "I don't need to learn that; I won't be doing this much longer." "I'm not going to invest in a writer that will admittedly lessen wear and tear on my body, help me write better, is the single most important tool of my trade, because I'll be quitting/retiring in five years." Yes, you can make changes no matter your age. I practice — there's that word again — what I preach, and believe it keeps me sharp. You might even call it a hedge against — I'll be kind here — loss of brain power, in whatever form it takes. One can only hope. But I do know that giving in is a lose-lose, so why not give winning a shot?